Symbiosiskru's 4th annual Pf Changs (unofficial) Balcony BBQ and Jam out.
With the onset of the new year here already, we will be hosting the balcony bbq once more. If you attended last year then you know how much fun this is and how tragic it would be to miss another one. AaronZ will be passing the spot on to the next generation which is helping to cosponsor the party. Here is the map and past pix. Enjoi...
Birdseed & Bitter Love Next Time
New Mix dubbed Birdseed by Dj Tango and a full album Bitter Love Next Time by Kontains Jazz. Both of these guys are from the group Grape St. Blues and are putting in work from the Escondido area of California and we cant help but support. Check out these two new pieces for your collection and when you get a chance show them some love by hitting up the myspace pages and dropping them a line or 2. Happy new year and be safe everyone!
The Mangled Mixtape 2
New Mix by Dj Tango and Mannyfesto. These guys bring Escondido So. Cal Undergroud Hip-Hop to the web done just right. Don't forget to send these guys props by going to the Bio's page and hooking up with Tango and friends on myspace. Enjoy!
PF Changs Pix uploaded and SymbiosisKru Myspace!
Pix have been up in the gallery for awhile. Times are busy so there's been alot of disorganization but hey, we're a work in progress. Gotta pay the bills with the day to day shit. But don't worry there's always a smile on this face from every great weekend we are blessed to have. And they are running out, so make the most of them. Dl the pix when you get a chance because I can't promise they will be up forever.
Anywyays... the SymbiosisKru Myspace page has officially been launched. What does this mean for you? Maybe not much since we already forgot the password... But don't worry we wrote it down stashed it in a bottle and threw it in tempe town lake for safe keeping. It's probably being pee'd on by a bum who thinks the melting letters are absolutely fucking histarical. Wait a minute that was me... But enough with the games. The Myspace will make it easier for us to post stuff from the road and give everyone a chance to post what they want on the page. Regardless of who you are. Want that mix up? Post it dawg! Want those nasty pix of your ex up? Post it dawg! The idea is to create a public page by us for us. So get to posting!
And check out the gallery!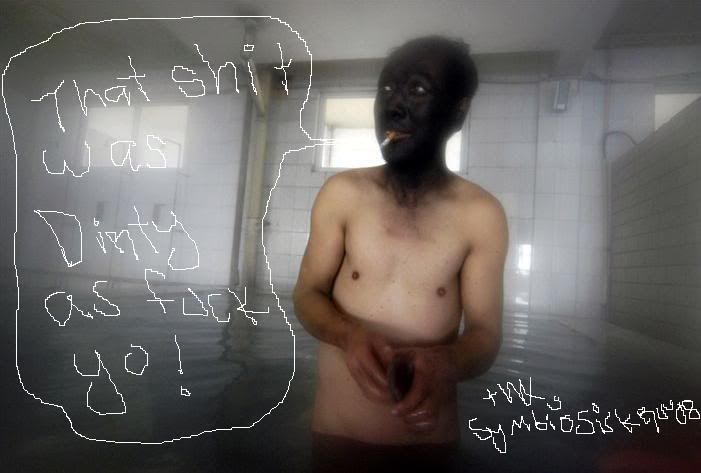 Basics.
New Mixes for the New Year!
So it's getting close. The end of 2007. It seems like alot of other years when they ramp up to the big celebration before the reset. People are running around buying up x-mas presents and making those phone calls. It all gets to be a bit much, especially when people are trampling and shooting each other over who gets the last teddy ruxpin. So while your sitting in traffic and need something to pass the time or want to pump some jams on your way to that x-mas party here are some mixes to consider. Just play safe this holiday so no one gets hurt and don't forget to tip your bartenders. Merry X-Mas!
2 Mixes: Casper that funky Dj & Techno Gangstarr Dj Celina
Dont furgit to "Right Cluck and Save Us"
---
Getting Dirty
Remember when you were a kid? Getting crud in your finger nails was sometimes the funnest thing in the world. Now when you look back on those times while you space out in the morning until that first bit of coffee kicks in you may be thinking: 'I was a fucking dumbass, I coulda been banking G's yo! Instead I was playing in the dirt!' The point is the at some point we all lose a little bit of that innocent kid when we grow up. Even the biggest hippies among us. However at some point crapping your pants and crying because inspector gadget isn't on at 3 anymore is just kind of pathetic. What does any of this have to do with Techno? Not a goddamn thing. Download this new mix by Eon.
---
Classic America
New Mix out now by Rub-Del-Mar. Classic America. This is one of those bottle of whiskey by the fire mixes. The tracks on this mix are ones that your grandparents used to to blow to back in the day and somehow showed up in the year 2000 normal of sorts. Anyhow theres alot of classic goodies on here. As always spread the love and remember you can burn this one for your moms. Peace. Click to downloader.
---
New to you mixes posted!
These have been way over due. And it should be no part of my slacking that this guy is not heard. Whenever anyone asks me what kind of Hip-Hop I like, I always say 'Underground'. Then I usually rant and rave about badass hip-hop Dj's. So, eventually I bring up this guy. Dj Tango. He's been spinning since before I knew I could masterbate and it shows. He has some disgusting skills and all of these mixes will prove it. If your ever in the Escondido / San Deigo area and swoop up a flyer where this dude is spinning. Pencil that shit in. He can juggle beats like some of us juggle habits and girlfriends. Check it out!
---
Techno has a Homme in Phoenix
What did you do on Saturday? If you didn't show up to Homme for Are Friends Elektrik and Solid Saturdays then your missing out. This felt like a reunion of some of the OG's in the AZ electronic music scene. Substation (www.deserttrancerecords.com) Blew it up with a live set upstairs. (Thanks for the promo: Sonique des Fleurs vs Substation!) Meanwhile Jas and Kevin Brown tore it down with some banging tunes in the old One spot with the hard opening of Solid Saturdays. Even Inertia came out. It felt like a big reunion. All of the survivors of the rave days who have different things going on in their lives but still maintain that electric connection. Even if nothing is said I'm glad to witness the come-together. I gotta say, I like and respect what those guys are doing. Justin McBee, Pablo, Joe Bear and everyone else who I didn't mention are doing a great job of putting some quality nights together that this town has been needing. Mostly for those of us that refuse to go to Scottsdale. Much love to all the people that play house music everywhere, but it's hard to deny the feeling of being in a dirty techno club with the lights low and music pumping. It's a whole other experience minus the $10 beers and chicks who want to know how much money you make.
AaronZ
RIP 09-11-01 victims.
---
Trancedesign.net Episode 10 By: Ray Ray (www.cyborgcow.net)
RayRay has posted up a new high quality ableton mix. Check it out.
Click the banner to go to the directory. You can download all of the podcasts there.
Name/Original Length - New BPM = 140
1. Royksopp - What Else Is There (Trentemoller remix) (7:41)
2. Starkillers Vs Seal - Unknown (8:22)
3. Yvel And Tristan - Eastern Evolution (7:55)
4. Wippenberg - Promisedland (Spaera Mix) (8:59)
5. Yamin Feat. Marcie - Butterfly Garden (Santerna Vocal Mix) (9:56)
6. Above & Beyond - World On Fire (12 Inch Mix) (7:36)
7. Markus Schulz - Without You Near (Alex M.O.R.P.H's Sacred Light Mix) (7:31)
8. Starkillers - Scream (Kobbe & Austin Leeds Remix) (8:42)
9. Mario Ochoa - Lost Language (Original Mix) (7:31)
10. Marris - Egarnical (Thomas Penton Remix) (7:37)
11. Mike Vandenberg - My Life (Extended Mix) (7:41)
12. Umek - Akul (6:48)
13. Superchumbo - Fall Out (8:45)
14. Superchumbo - Fall In (7:26)
15. Sonicvibe Pres Vardran - Lightform (Sassot Remix) (8:22)
16. Mike Monday - Zum Zum (4:17)
17. Tyler Michaud - White Widow (Ben Brown Remix) (8:47)
18. Sunlounger - Aguas Blancas (Where To Get Naked Mix) (8:55)
---
New Mixes up!
AaronZ (www.symbiosiskru.com) Dirty Techno Robot Undies - It's been awhile since the Kru's very own has put together a mix but there has already been tons of positive feedback on this one.Very influenced by Detroit and Europe this mix was meant to be timeless. Click away.
Funk Shui (www.innoviii.com, www.symbiosiskru.com, myspace.com/funkhuidj) - Brand new mix from this Chicago up and comer. He is getting gnarly people. Do I detect a hint of Detroit? hmm...
Eon (www.innoviii.com, www.symbiosiskru.com, myspace.com/ElectronEon) - With a solid Minimal Electro-Tech mix. I couldn't stop listening to this today. Reminded me of some of those unforgettable summer parties that you don't want to end. Download it today, you will not be disappointed. Also he has some new tracks up on the myspace so give those a whirl.
.
---
So it's been awhile.
Sue us. And don't think we forgot about all the nasty stuff you did this summer. We keep mental tabs on all things funny, nasty and amazing.To start off DEMF was fun this year. Hopefully the gallery will be fixed and some new pix can then be uploaded. Capital! If no one has been to DEMF before it really is worth the hotel, plane and party ticket. Everyone I talked to said Miami is the place to make connections for business but Detroit is where everyone goes to really get down and party. You can tell also. I don't think I've ever been in a more party crowd atmosphere. It was hella fun and if you get a chance hit the Worx. It is a classic 145 degree techno club. Props would go out to sooo many people but I will list a few that I personally liked. Steve Bug, Punisher (Great party at Burts - Tektronic), Marco Carollo (spelled right?), Loco Dice, Booka Shade, Christian Smith, and plenty of other blew the roof off the place. Jimmy's early monday morning party at the old miami felt like home. Green grass, pretty girls, lots of cool people, 9am beer and plenty of minimal techno to start off the last day right. Plan on going next year if your barely considering starting to begin debating even kinda sorta considering it. I will buy you a beer if it sux. Fuck I'll buy you a beer if I see you there. Get there!Electric Daisy Carnival brought about the usual California times that make it a unique place. Krafty Kuts was sick, Mark Farina is the man, and I even caught the front end of Sandra Collins set. It is always a big party and Cali comes with the feeling that you have to be careful when your letting it all hang out. Enjoyable non-the-less.Coming up this year. Rock the Bells (SF), Lovefest (SF) and Nocturnal Wonderland (So Cal) is happening the same weekend. It's going to be a tuff choice but it will be made. So with that enjoy the rest of the summer wherever you are and buy up winter clothes now while theyre cheap. Stay cool and remember to wait 30 minutes before getting in that pool.AaronZ---We're setting up the turns...
---
New Mixes up!
Happy new year! I added 1 new mix: RayRay's Sapphire mix and a new profile even tho I feel bad cuz both of the dood's deserve more than that! Tango's old mix and once I double check a new and old! How nice would that be?!?!?! And Ray Ray who does indeed host this site! He is the technical MANG! (Did I spell that RIOGHT =P) Anyhow, they are both top notch cats. And it would be worth the effort to check out some wildly diverse mixes. Just keep up the interest and try your best to listen to new shit all the time. Its tuff, especially when you love something. But keep up that pioneering attitude and thing adventure with tha ears!!! Stay up and be happy!Posted by: AaronZ 01-04-07 ---New Page, New Year
---

What up peoples!

As you can see the site is alot different. And way more simple. Woohoo!
The whole idea is to make this site more self sustaining.
That way I can be spared some headache and actually get some stuff done
ie: mixes and other forms of self gratification
(maybe even find some time to work on a track or two).What would be nice in the long run is for users to be able to upload stuff from a form.
Enter the info of a mix or whateverand upload the shit themselves but lets not get crazy just yet!
Bios are easy, we just set up a frame with the target as whoevers myspace page.
People can take care of their own bio page themselves,
I like the idea of self responsibility in this, good way to keep people motivated.
Exoxoxoxocellllent.It's New Years Eve about to be 07' and here my motivation lies:
This web page and a bottle of Canadian Club!
I'm sorry to say we have lost some members this year to personal life.
Some of the original members of the Kru have families and are finishing school among other things.
With any luck I will be soon too - The almighty Dollah!
But they will always have a home here should they take up the hobby of djing once again. The best of luck everyone TCOB!Besides that we have some new shit coming up, really! So stay tuned kiddo's.
With that have a safe New Year, keep a positive attitude and smile always
as you look forward to another great year on planet earth
with the gift of life as your most valuable possession.
Posted by: AaronZ 12-31-2006
---